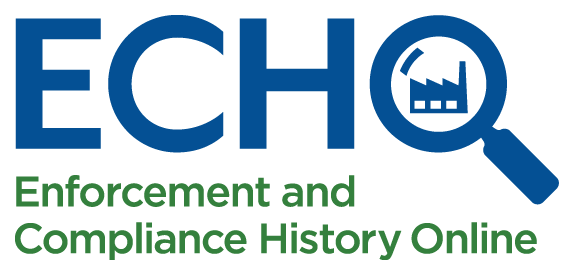 Public services support the ECHO website and are available to web developers. The services allow developers to design custom applications utilizing a live feed of data from ECHO.
Note: To download a large volume of data, please use the ECHO Data Downloads . To allow simple facility searching from your website, see the ECHO widget . Other services can be found on the Web Services page .
Facilities Map Service

The ECHO Facilities Map Service includes data about EPA-regulated facilities from the All Media Programs facility search and the ECHO Exporter and is refreshed weekly on Mondays. The map layer uses ECHO's standard facility symbology, illustrating the programs each facility is regulated under, whether they are in noncompliance, how long it has been since the last inspection, and whether they are a major facility. Users can choose to view all facilities or tailor the view to facilities regulated under the Clean Air Act, Clean Water Act, or Resource Conservation and Recovery Act.

NPDES Discharge Points Feature Service

The water NPDES Discharge Points Feature Service provides EPA program system (ICIS-NPDES) facility and permitted features (e.g. discharge points or outfalls) for map layers in a standardized format. Users can access or download the water discharge points data to create their own maps and analyses. 

National Combined Sewer Overflow Inventory Service

The National Combined Sewer Overflow Inventory Service provides the most current inventory of combined sewer overflow (CSO) outfall locations across the United States. A combined sewer system collects rainwater runoff, domestic sewage, and industrial wastewater into one pipe. Normally, it can transport all of the wastewater to a treatment plant. Sometimes the amount of runoff exceeds the capacity of the system. When that happens, untreated stormwater and wastewater flows into nearby waterbodies. These events, called combined sewer overflows, are subject to the National Pollutant Discharge Elimination System (NPDES) permitting program. These CSO data are updated weekly by EPA Regions and states. Please note that states are actively working to ensure these data are complete and accurate in EPA's national NPDES data system (ICIS-NPDES). User can use this service to create their own maps and analyses. These CSO outfall locations can also be downloaded from the following ECHO webpage.

Concluded Enforcement Cases by Fiscal Year Maps

The Concluded EPA Enforcement Cases maps show concluded enforcement actions and cases during a federal fiscal year. These include civil enforcement actions taken by EPA at facilities, criminal cases prosecuted by EPA under federal statutes and the U.S. Criminal Code, and cases in which EPA provided significant support to cases prosecuted under state criminal laws.
The information contained in ECHO is made available to the public by the U.S. Environmental Protection Agency (EPA) for informational purposes only. No warranty, express or implied, is made by EPA or any other agency of the U.S. Government regarding the accuracy, completeness, or currency of this information. Geospatial data provided by external parties are not independently verified by EPA and do not represent EPA's official position, viewpoint, or opinion, express or implied.