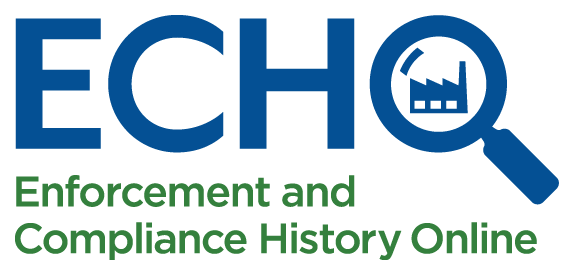 Search Results Help - Biosolids Annual Report
As described in detail on the primary Search Results Help home page, the Search Results page presents results that meet the search criteria specified. Information and data specific to the Biosolids Annual Report Facility search results is described below.
Biosolids Annual Report Data
Biosolids Annual Report data available in the ECHO Facility Search Results only includes reports submitted electronically through EPA's NPDES eReporting Tool (NeT) for Biosolids. Currently, you can access annual report data from 2017 to 2021 in ECHO.
Note: Texas is the first state-delegated program to use NeT-Biosolids for annual reporting. Texas uses the crop cycle (September - August) for the 2020 and 2021 reporting periods.
---
Annual Results Data Table
You can sort the data table on the following columns:
Facility Name
NPDES ID
Certified Date
Select the hyperlinked NPDES ID to view the ECHO Biosolids Facility Report, which provides more detailed information from Biosolids Annual Reports. Additionally, you can download the table in .csv format using the CSV Download button.
Select the links below to jump to the Results Guide for detailed descriptions of each field:
Results Guide
Data fields included in the search results are described below.
Company or permit holder name. Note that the facility name may differ across EPA databases due to differences in reported information, change in ownership, use of parent or subsidiary name, etc.
A unique 9-character ID assigned for each permit within the National Pollutant Discharge Elimination System (NPDES) program. The ID may contain both letters and numbers and often begins with the two-letter abbreviation for the state in which the facility is permitted.
Select the hyperlinked NPDES ID to view the ECHO Biosolids Facility Report, which provides more detailed information from Biosolids Annual Reports.
The city where facility is located.
The U.S. state where facility is located.
The EPA region where the facility is located. EPA has 10 regional offices that execute programs within several states and territories.
Search for facilities that submitted a Biosolids Annual Report in a specific reporting year.
The date that the Biosolids Annual Report was electronically signed and submitted to EPA.
The category or categories the facility is required to submit a Biosolids Annual Report under. Reporting obligations include:

A Publicly Owned Treatment Works (POTW) with design flow rate equal to one million gallons per day
A POTW that serves 10,000 people or more
Class I Sludge Management Facility as defined in 40 CFR 503.9
Otherwise required to report (e.g., permit condition, enforcement action)
None of the above

The amount (in dry metric tons) of biosolids or sewage sludge generated at the facility.
The number of violations based on the information in the biosolids annual report.
The biosolids management practice (e.g., land application, surface disposal, incineration) under which the violation occurred.
The type of biosolids management practice (e.g., land application, surface disposal, incineration) used by the facility. The facility will separately report the management practice for each biosolids or sewage sludge form and pathogen class. This data element will also identify the management practices used by surface disposal site owners/operators (see 40 CFR 503.24).
The amount of biosolids land applied in dry metric tons.
The amount of biosolids surface disposal in dry metric tons.
The amount of biosolids incinerated in dry metric tons.
The amount of biosolids managed using methods not previously described in dry metric tons.
The pathogen class for biosolids or sewage sludge generated by the facility. The facility will separately report the pathogen class for each biosolids or sewage sludge management practice used by the facility and by each biosolids or sewage sludge form. Options include:

Class A - Biosolids that have been treated to non-detectable metals and vector attraction reduction options.
Class A EQ (sale/give away) - Exceptional Quality biosolids that meet low-pollutant and class A pathogen reduction limits and that have a reduced level of degradable compounds that attract vectors.
Class B - Biosolids that contain detectable levels of pathogens, but have been reduced to pathogen levels that do not pose a threat to public health and the environment as long as actions are taken to prevent exposure to biosolids after their use or disposal
Not Applicable